BULATS or BEC – which is for me?
BULATS, the Business Language Testing Service, has been specifically designed to provide rapid assessment of a candidate's business language – with the results available immediately. Each test adapts to the candidate's level of ability while the assessment is still in progress, meaning it can be used to test a wide range of abilities. The tests, created by Cambridge University, cover four areas: reading, listening, speaking and writing, and these can be taken in any combination. Furthermore, the tests are available to be taken on any computer.
The Business English Certificate, or BEC, is produced by Cambridge English, the same department of Cambridge University that is responsible for BULATS, and it tests candidate's abilities in the same four areas as BULATS.
One of the primary differences between these two assessments is that BULATS is designed to enable employers to gauge the level of business language of employees and/or potential employees. BEC, on the other hand, meets the needs of individuals seeking to gain a qualification. In contrast to the adaptive approach offered by BULATS, the person taking BEC must select one of three levels: Preliminary (B1), Vantage (B2) or Higher (C1). The examination takes place at authorised centres on a monthly basis.
Neither BEC nor BULATS specifically test specialist business vocabulary, rather they focus on the use of general English in a business setting. Yet when it comes to choosing between them, the difference is clear: BULATS enables employers to apply a thermometer to their workforce with respect to their ability to use English in the workplace. It can furthermore be used a) as a tool to specifically assess the outcome of training courses, thus helping the employer to perform a cost-benefit analysis with respect to their investment, and b) as an aid to the recruitment process. BEC, on the other hand, is a qualification of interest to individual professionals wishing to demonstrate that they can use English confidently in international business environments.
The outcomes of both methods of assessment are mapped against a table that shows the equivalent Common European Framework Reference for Language (CEFR), comprising levels A1-C2, as shown below: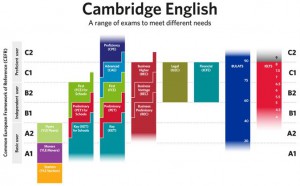 (Click to enlarge)
So which of the two would best suit your purposes? As the saying goes, it's simply a matter of horses for courses.